Early Childhood Education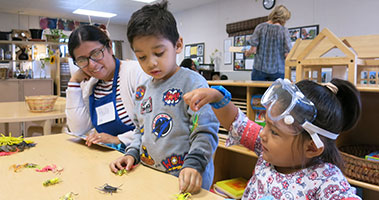 Majoring in Child Development prepares students for jobs in a variety of early care and education settings as well as in related fields working with children and families.
Early Childhood Education
Elementary Teacher Education
Prepares students for transfer into a baccalaureate level degree at any of the California State University campuses. The Elementary Teacher Education program prepares students for jobs teaching in the Kin­dergarten through eighth (-8) grades in the public and private education system.
Elementary Teacher Education
Education and Liberal Studies
Students completing the Liberal Studies associate degree will have the knowledge, skills and attributes necessary to successfully transfer into the teaching programs offered at four-year institutions. In addition, students will obtain a strong foundation for other professions in fields of public services.
Education and Liberal Studies