Library

Fall Hours 
Monday – Thursday: 7:30 a.m. – 8:00 p.m.
Friday: 7:30 a.m. – 3:00 p.m.
Saturday & Sunday: CLOSED
HOLIDAY CLOSURES:
9/2/19—Labor Day
11/11/19—Veterans Day
11/27/19—Early Library Closure at 3 p.m.
11/28/19-11/29/19—Thanksgiving
12/13/19—Early Library Closure at 12 p.m.
Contact
Email: library@reedleycollege.edu 
Phone: 559-638-0352
Online Library Catalog - Books, DVDs, & more!
Students: Get Research Help Today!
Make an appointment with a librarian by completing a Library Research Assistance (LRA) form.
LRA sessions are at least 30 minutes. Responses and appointments are completed during open library hours, and may vary based on day/time submission of the form.
Student Responsibility: Bring a copy of your assignment and any research you have already gathered about your topic.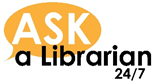 Get immediate help with research and general questions with 24/7 Ask-A-Librarian!