Aviation Maintenance Technology
Why Study Aviation Maintenance at RC

Upon successful completion of this program, students will have met all the requirements needed to take the aircraft Airframe and Powerplant mechanic exams.
Aviation Maintenance Technicians (AMTs) are individuals that have the important responsibility of keeping aircraft operating safely and efficiently. They service, repair, overhaul, and test aircraft and aircraft systems. All AMTs must be certified by the Federal Aviation Administration (FAA) and hold the rating of Airframe & Powerplant (A&P) mechanic. At Reedley College, you can train to become an Aviation Maintenance Technicians and earn your FAA A&P mechanic rating. With this rating, you are authorized to work on the airframe; which includes the wings, fuselage, tail assembly, and landing gear. You can work on the Powerplant; both piston and turbine types including the propeller.
Courses and Programs
Reedley College is an FAA-approved school and has offered Aviation Maintenance Technician courses for more than 50 years. Students can earn an Associate in Science degree or a Certificate. Graduates of our program are prepared to take the FAA exams required for certification. As an added feature, the federally regulated oral, practical and written exams may be taken on-site at Reedley College.
Aviation Maintenance Degree and Certificate Programs:
Program maps represent one possible pathway through the program and are for reference only. Detailed information is available in the course catalog.

Students should make a counseling appointment to create a customized education plan to fit their needs.
Student Orientation
Students are required to attend a mandatory orientation with the AMT faculty. The next orientation will be October 3rd at 4:00pm in the Aeronautics building Room AER 5.
Future orientations will be held on January 2nd and March 5th, 2024 at 4:00pm in the Aeronautics building Room AER 5.
Current/Returning Students
Financial Aid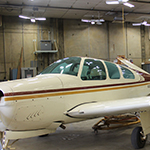 Find out what Financial Aid is available and how to use VA Benefits to pay for school.