Guided Pathways
Reedley College was selected to be one of the 20 California Community Colleges to participate in the groundbreaking California Guided Pathways Project. Reedley was chosen in part due to its strong focus on student success and equity.  Guided Pathways is a transformational framework that focuses on reviewing and revising college policies, procedures and practices with the goal of designing with the student in mind. Our students tell us that they have difficulty navigating college life and structures.  With the college Wildly Important Goal in mind "We motive and inspire student to succeed" Reedley has embraced Guided Pathways.
Start Spreading the News…
Reedley College faculty and administrators traveled to New York City for the Community Colleges League of Innovation Conference February 24-27 to present three breakouts about our journey with Guided Pathways. Presenting at the conference were Vice President for Student Services Renee Craig-Marius, Academic Senate President Stephanie Curry, English Instructor Rebecca Snyder and CCCCO Guided Pathways Regional Coordinator Michelle Stricker (on loan from RC). The group presented on Changing Placement in a Guided Pathways Framework, Hobsons Starfish: Holistic Tools for Guided Pathways, and Onboarding a College to Guided Pathways.
Student Onboarding
Reedley College Students had the opportunity to participate in new onboarding activities
Tiger Preview
Pathways Virtual Orientations
Success Teams Established (7 Pathways Teams)
System Changes
Reedley College reviewed and changed systems and processes to focus on student needs.
New Program Review Process
Governance Task Force Established
Starfish Predictive Analytics
Pathways Websites Created
Implementation of Career Coach
Pathways Canvas Shells
Caring Campus Directory
Online Information Center
Streamlining Application Processes (including Dual Enrollment)
Equity Work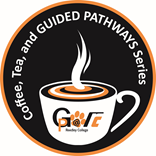 Equity work was at the heart of all guided pathways activities.
Equity Website Scan
Equity Curriculum Review
Equity Trained Data Coaches
Equity Committee Established
United Way 21 Day Race Challenge (multiple sessions)
Workgroup established to review Ethnic Studies CSU Requirement
Equity 101 Canvas Course (Coming Spring 2021)
Equity and Anti-Racism Resolutions (Academic Senate, Classified Senate)
Professional Development
Faculty, Staff and Administrator participated in a variety of professional development opportunities related to Guided Pathways.
Coffee, Tea and GP Equity Web series (1st and 3rd Tuesdays @ Noon) (click on the links to view the webinars)
Guided Pathways Themed Flex Days
Fall Opening Day Speaker Melinda Karp "Equity-Focused Student Support Within a Guided Pathways Framework)"
Classified Professionals Guided Pathways Webinar Series
What's coming in Spring 2021
Classified Guided Pathways Leadership Academy
Caring Campus Directory
Virtual Book Club: How to be an Anti-Racist by Ibram X. Kendi
Continuation of Coffee Tea and GP Webinar Series
Updated Tiger Preview and Pathways Connect Onboarding Activities
Updated Onboarding Websites for Students
Updating Program Maps for new CSU Ethnic Studies Requirement
Governance Task Force Recommendations
New Data Dashboards (with ability to disaggregate data)
Expansion of Success Teams work and membership
Launch of Career Coach
Pathways Career and Transfer Months (more to come in Fall 2021)

Child Development and Education (February)
Business (March)
STEM (April)
How you can become involved in GP@RC
Attend a Professional Development Opportunity (Flex Days, Coffee, Tea and GP Webinars, Virtual Book Club, ASCCC Webinars)
Contact Stephanie Curry or Renee Craig Marius about serving on a Guided Pathways Committee
Connect with your Pathway Success Teams to discuss student support activities
Share with your students Career Coach, encourage them to do the career assessment
Sign up and Interact with Students on the Pathways Canvas Pages
Share with Students the availability of basic needs support (food pantry, transportation, emergency support)
Work with your pathway Data Coach to review and disaggregate student data.
Join the Caring Campus Initiatives
Participate in Equity Curriculum Review